Construction Management
& General Contracting
Step into the role as General Contractor or Construction Manager for any project. We pride ourselves on our nearly 70 years of construction and management experience. No job is too complex. We are eager to build spectacular buildings as well as relationships that foster continued work with our customers. Due to vertically-integrated construction process, we are in the driver's seat every step of the way.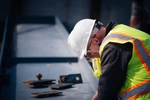 Licensed, Insured & Bonded
No job is too complex or too challenging for JB STEEL™. Our experience and knowledge allows us to tackle projects of any size, in the markets we serve.