Construction Management
& General Contracting
We can step into the role as General Contractor or Construction Manager for any project. We pride ourselves on our nearly 70 years of construction and management experience. No job is too complex. We are eager to build spectacular buildings as well as relationships that foster continued work with our customers. Due to our vertically-integrated construction process, we are in the driver's seat every step of the way.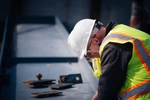 The difference between construction management and general contracting
Construction Management
Commercial and industrial construction management is a professional service that provides coordination, management, and oversight of construction projects. It is typically used for large-scale projects that are complex in nature.
General Contracting
Commercial and industrial general contracting, on the other hand, is a type of contracting that focuses on the physical aspects of construction. General contractors are responsible for the day-to-day management of construction projects, as well as the coordination of workers, materials, and equipment. While both commercial and industrial construction management and general contracting are essential to the successful completion of construction projects, they are distinct services that serve different purposes.
Get A Free Project Estimate Or Preliminary Site Review

JB STEEL™ is a Self-Performing General Contractor
Traditionally, most general contractors will hire subcontractors to perform a majority of the work instead of performing it themselves. When you work with JB STEEL™, we have our own employed crews who perform the major scopes of work which include the following:
Civil construction: excavation, dirt hauling, rock import, grading, utilities, sewer, storm piping, fire suppression piping, etc.

Structural Concrete & Tilt-ups

Structural Steel

Pre-Engineered Metal Buildings
What are the benefits of a self-performing general contractor?
We control the critical path
Our crews perform these large scopes of work that define the critical path of a project schedule. Conversely, other general contractors who rely on the availability of various subcontractors to schedule their projects, it puts JB STEEL™ ahead of the game when it comes to finishing jobs on time.
We control cost
JB STEEL™ is a vertically integrated company. The majority of the work on our jobs, ranging from design professionals to ironworkers, is performed by highly qualified JB STEEL™ employees. This advantage allows us to control cost variables that other general contractors cannot. Furthermore, we value our deep rooted and trusted relationships with material suppliers, engineers, and finish trades in the areas we work which enhances our ability to meet our customer's budgets.
We control quality
We focus on building crews that are experienced, knowledgeable, and safety conscious. This defines our ability to perform work at the highest level of quality our customers demand. Our 65+ years of experience speaks for itself.
Common general contracting and construction management project types
Pre-Construction Process And Advantages
The pre-construction process is a vital step in the overall journey of a project. It serves to outline key objectives, review the scope and feasibility of a project, and create a comprehensive plan for how to move forward. During this phase, vital decisions are made such as budgeting, site analysis, and design reviews — all essential items needed to ensure the rest of the project runs smoothly. Not only that but properly mapping out plans in advance sets the foundation for quality control throughout the entire development process. In other words, pre-construction is an integral part of any successful project and should not be overlooked.

COMMON BUILDING SIZES
JB STEEL™ Specializes in commercial and industrial high quality 10,000+ Sq Ft buildings.
Below are some of the most common commercial and industrial building sizes. JB STEEL™ can build these or any custom building size.
Licensed, Insured & Bonded
No job is too complex or too challenging for JB STEEL™. Our experience and knowledge allows us to tackle projects of any size, in the markets we serve.