Civil Construction
JB STEEL™ provides complete site work packages for new commercial & industrial buildings and parking lots. We service the Rogue Valley & general Southern Oregon areas.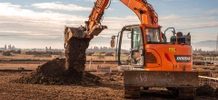 JB STEEL™ Services the Rogue Valley & Surrounding Southern Oregon Areas
We believe that properly getting your site ready for construction is a crucial step to getting your job set up so that we can perform to true costs, true to schedule, and true to design of job specific scopes. We provide sitework services such as demolition, excavation, utility installation, and much more.
Civil Construction Services
Demolition
JB STEEL™ is a leading provider of commercial and industrial demolition services. We have a team of experienced professionals who are skilled in safely and efficiently demolishing all types of buildings, from Commercial businesses to large industrial factories.
Excavation
JB STEEL™ is a full-service excavation contractor specializing in commercial and industrial projects. Our services Include site clearing and grading, excavation and grading for footings and foundations, demolition, retaining walls, water lines, sewer lines, and more.
Import of Structural Fill
JB STEEL™ offers the import of structural fill for commercial and industrial construction projects. We have a fleet of trucks and heavy equipment that can handle any size load. We also have a team of experienced operators who are familiar with the terrain and conditions in the region.
Utility Installation
JB STEEL™ is a leading provider of commercial and industrial utility installation services in the Rogue Valley. We install all of your underground utility needs by coordinating with local providers and jurisdictions.
Site Concrete
At JB STEEL™, we have crews who specialize in both commercial and industrial site concrete. We understand that each job has different requirements, and we are equipped to handle any challenge that comes our way.
Storm & Sanitary Systems
JB STEEL™ specializes in commercial and industrial storm and sanitary services.
Ductile Iron (Fire Line)
JB STEEL™ is a leading provider of Ductile Iron (Fire Line) Civil Construction services. We are committed to meeting or exceeding all applicable codes and regulations.
Asphalt Prep & Place Management
We specialize in the preparation work needed for laying asphalt. Additionally, we manage the asphalt paving, cold planing, sealcoating, crack filling, line striping and infrared patching/repair.
Customer Testimonials
"JB STEEL™ designed and built our new facility in Medford, Oregon seamlessly and met our timeline. They were great to work with every step of the way; from guiding us through frustrating permitting issues to implementing our requested mid-project design changes and finally keeping up with consistent communication to ensure we were updated on the progress of the job. All of their team members were the upmost professionals to work with and always provided needed information to us that ensured an on-time project completion. We appreciate their hard work and definitely look forward to working with them again!"
"JB STEEL™ recently designed and constructed a beautiful new building for our property and were an absolute pleasure to work with. They understood our unique vision and executed it perfectly, met our standards of quality, and did it on all a very tight timeline."
"We make a lot of changes and we need them to be on our team, not opposing each other but walk through it together to figure out a solution. We put them through the wringer and they delivered. We re-engineered two or three times; it was a long ways from home, and they made it happen on several levels."
JB STEEL™ Can Fill Many Different Roles on Your Job Site
Licensed, Insured & Bonded
No job is too complex or too challenging for JB STEEL™. Our experience and knowledge allows us to tackle projects of any size, in the markets we serve.