Delivering Visions. Accommodating Needs.™
Commercial & Industrial Design-Build Contractor
The JB STEEL Way™: Aligning our vertically-integrated construction process to our customer's needs from design to completion. We do it all.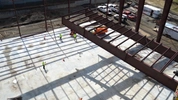 JB STEEL™ was ranked by Metal Construction News as a TOP 3 metal building contractor on the west coast by square footage and tonnage installed in 2022

We Understand The Full Scope Of Your Project
The fact that we are a self-performing, design-build contractor means that we understand the full scope of your project. From planning and design to building and inspections.
Over 60 years of experience

We bid what your project actually costs without the add-ons. Honest and Dependable

Design, Fabrication, Delivery, Erection

Commercial and Industrial Construction Specialists
Our Services

OUR MISSION IS ALIGNMENT
We see things from all angles to chart the course ahead and move together as one. We're better builders of structures, ideas, and relationships. With our customers, we start by defining their vision, then we shed light on opportunities to bring it to life, building possibilities into realities.
Our Team's Commitment To Each Other And The Job
As a team, our collective aim is to build stable, fulfilling careers and get home to our families safely. Our grit comes from our confidence in one another and a support system that allows us to grow together.
Get A Free Quote From Our In-House Design And Build Teams With Our Quote Calculator
Design and build teams work together to provide the most accurate quote near you

We have integrity in all that we do

Less "add-ons" during the erection process that run up the price

Industry Partnerships And Awards
Our partnership with Metallic Building Company & NCI Group began in 1997 & has continued to flourish. During that time we have received numerous Metallic awards for excellence & merit, culminating in 2015 when we were awarded Metallic Builder of the Year. We are the only Oregon based company to have ever received this prestigious award.
Customer Testimonials
"JB STEEL™ designed and built our new facility in Medford, Oregon seamlessly and met our timeline. They were great to work with every step of the way; from guiding us through frustrating permitting issues to implementing our requested mid-project design changes and finally keeping up with consistent communication to ensure we were updated on the progress of the job. All of their team members were the upmost professionals to work with and always provided needed information to us that ensured an on-time project completion. We appreciate their hard work and definitely look forward to working with them again!"
"JB STEEL™ recently designed and constructed a beautiful new building for our property and were an absolute pleasure to work with. They understood our unique vision and executed it perfectly, met our standards of quality, and did it on all a very tight timeline."
"We make a lot of changes and we need them to be on our team, not opposing each other but walk through it together to figure out a solution. We put them through the wringer and they delivered. We re-engineered two or three times; it was a long ways from home, and they made it happen on several levels."

Not Just Metal Buildings
At JB STEEL™ we don't just build metal buildings. We also specialize in wood, concrete, and other building types. This is another reason JB STEEL™ is able to work with you from start to finish to complete your project efficiently.

COMMON BUILDING SIZES
JB STEEL™ Specializes in commercial and industrial high quality 10,000+ Sq Ft buildings.
Below are some of the most common commercial and industrial building sizes. JB STEEL™ can build these or any custom building size.
Licensed, Insured & Bonded
No job is too complex or too challenging for JB STEEL™. Our experience and knowledge allows us to tackle projects of any size, in the markets we serve.