JB STEEL Divisions
JB STEEL has excelled in commercial & industrial metal building design & construction, structural concrete, structural steel & civil construction for 50 years.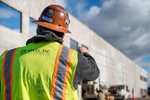 STRUCTURAL CONCRETE
Concrete is a vital component in so many different structures, from power plants to water treatment facilities, to foundations, and more. JB STEEL™ has been providing quality concrete work for decades and is the #1 choice for structural concrete in Oregon.
METAL BUILDINGS
We are the #1 Steel building contractor in Oregon. Our team can take care of your metal building project from start to finish, reducing cost and stress for you! We offer full custom designs as well as express projects that are pre-engineered and ready to go.
STRUCTURAL STEEL
Our highly specialized steel fabrication shop is capable of fabricating & shipping structural steel to meet your schedule. We have been in the valley for over 50 years, during which time we have perfected the steel fabrication and installation process.
CIVIL CONSTRUCTION
We believe that preparing your site for construction is the most crucial step to keeping your job on schedule and on budget. We provide sitework services such as demolition, excavation, sewer, storm, and utility installation.
Customer Testimonials
"JB STEEL designed and built our new facility in Medford, Oregon seamlessly and met our timeline. They were great to work with every step of the way; from guiding us through frustrating permitting issues to implementing our requested mid-project design changes and finally keeping up with consistent communication to ensure we were updated on the progress of the job. All of their team members were the upmost professionals to work with and always provided needed information to us that ensured an on-time project completion. We appreciate their hard work and definitely look forward to working with them again!"
"JB STEEL™ recently designed and constructed a beautiful new building for our property and were an absolute pleasure to work with. They understood our unique vision and executed it perfectly, met our standards of quality, and did it on all a very tight timeline."
"We make a lot of changes and we need them to be on our team, not opposing each other but walk through it together to figure out a solution. We put them through the wringer and they delivered. We re-engineered two or three times; it was a long ways from home, and they made it happen on several levels."
Licensed, Insured & Bonded
No job is too complex or too challenging for JB STEEL™. Our experience and knowledge allows us to tackle projects of any size, in the markets we serve.