Our Divisions
JB STEEL has excelled in commercial & industrial metal building design & construction, structural concrete, structural steel & civil construction for 50 years.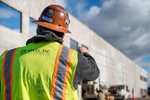 Customer Testimonials
"JB STEEL™ recently designed and constructed a beautiful new building for our property and were an absolute pleasure to work with. They understood our unique vision and executed it perfectly, met our standards of quality, and did it on all a very tight timeline."
"Every person I've worked with has always been top-notch people that listen well and execute well - that keeps me coming back!"
"We make a lot of changes and we need them to be on our team, not opposing each other but walk through it together to figure out a solution. We put them through the wringer and they delivered. We re-engineered two or three times; it was a long ways from home, and they made it happen on several levels."
Licensed, Insured & Bonded
No job is too complex or too challenging for JB STEEL™. Our experience and knowledge allows us to tackle projects of any size, in the markets we serve.