Subcontracting Services
JB STEEL™ looks forward to performing on projects as a Subcontractor. Our crews specialize in civil siteworks, excavation, structural concrete, structural steel fabrication and installation & supply and install of custom pre-engineered metal buildings.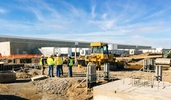 Why Choose JB STEEL™ For Your Subcontracting Needs
Ability To Execute
Our ability to execute on the entire site-foundation-structure package provides seamless transitions on our jobs. Our depth of field knowledge within these areas allows for quick problem-solving providing distinct advantages for project budgets and schedules. Due to our general contracting/construction management capabilities, we understand what it takes to perform well as a Subcontractor. This is just one of our unique strengths in the industry.
Our Past Work Speaks For Itself
All you really have to do is look over our previous work portfolio to understand that JB STEEL™ is the best option to subcontract for your job. Professional, experienced, and well-trained people that care about every job we work on.
Communication Between Contractor and Subcontractor
One of the most important aspects of any construction project is communication. Good communication between a contractor and subcontractor is essential for ensuring that the project runs smoothly and on schedule. A subcontractor who understands the contractor's plans and expectations can work more efficiently and effectively, which can save both time and money. In addition, clear communication helps to prevent any misunderstandings that could potentially lead to disputes. By establishing and maintaining good communication channels, contractors and subcontractors can ensure that their projects are successful from start to finish.

Other Benefits When Hiring us as a Commercial or Industrial Subcontractor
1. Increased Efficiency
One of the primary benefits of hiring us as a commercial or industrial subcontractor is that we can help to increase the efficiency of your Project. By hiring JB STEEL™ as a subcontractor, you can ensure that the work is completed in a timely and efficient manner. Due to our wide range of self-perform divisions, we are able to complete the major scopes on most projects which minimizes or eliminates gaps in the project schedule that are usually present when multiple trades perform them individually.
2. Cost Savings
Our cost effectiveness comes from our years of boots on the ground experience. When we step onto your project site as a subcontractor you can rest assured we know what we are doing. Furthermore, our ability to problem solve in the field drastically reduces any rework or delays to the project. 
3. Access to Expertise
When you hire us as a commercial or industrial subcontractor, you also gain access to our expertise and knowledge. We have extensive experience in our field and can offer valuable insights and advice on how to complete a project successfully.
4. Increased Flexibility
Another reason to hire us as a commercial or industrial subcontractor is increased flexibility. We can be hired on an as-needed basis, which allows you to scale your workforce up or down as needed. This can be beneficial when demand for your product or service fluctuates. Additionally, if a project requires specialized skills or knowledge, you can simply hire us as a subcontractor with the necessary expertise rather than trying to train your existing employees or hire new ones.
Sub-Contracting Divisions

We Know Your Company's Reputation is Important
We understand that when we subcontract we are an extension of your company and we take this very seriously. Our subcontracting crews operate with integrity and professionalism to ensure your company's reputation stays strong in the community.
Customer Testimonials
"JB STEEL™ designed and built our new facility in Medford, Oregon seamlessly and met our timeline. They were great to work with every step of the way; from guiding us through frustrating permitting issues to implementing our requested mid-project design changes and finally keeping up with consistent communication to ensure we were updated on the progress of the job. All of their team members were the upmost professionals to work with and always provided needed information to us that ensured an on-time project completion. We appreciate their hard work and definitely look forward to working with them again!"
"JB STEEL™ recently designed and constructed a beautiful new building for our property and were an absolute pleasure to work with. They understood our unique vision and executed it perfectly, met our standards of quality, and did it on all a very tight timeline."
"We make a lot of changes and we need them to be on our team, not opposing each other but walk through it together to figure out a solution. We put them through the wringer and they delivered. We re-engineered two or three times; it was a long ways from home, and they made it happen on several levels."
Licensed, Insured & Bonded
No job is too complex or too challenging for JB STEEL™. Our experience and knowledge allows us to tackle projects of any size, in the markets we serve.