Energy Efficient Building Methods
In today's world, energy efficiency is more than a buzzword; it's a necessity. For commercial and industrial construction projects, incorporating energy-efficient methods not only reduces operational costs but also contributes to sustainability and environmental responsibility.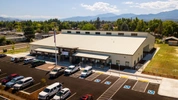 Find Out How JB STEEL™ Can Make Your Building Project More Energy Efficient
Energy Efficiency Building Factors
Solar Power Integration
Harnessing solar energy is a game-changer in the realm of energy-efficient construction. Solar panels can be integrated into the building design to generate electricity, reducing dependency on non-renewable energy sources. Moreover, solar power systems can be scaled to meet the specific energy needs of your commercial or industrial facility.
Insulated Concrete Panels
Insulated Concrete Panels (ICPs) are a revolutionary building material that offers both structural integrity and thermal insulation. Consisting of a sandwich-like structure with insulation between two concrete layers, ICPs provide excellent thermal performance. They are particularly useful in commercial and industrial settings where temperature control and efficiency are crucial.
Advanced Insulation Techniques
Proper insulation is the cornerstone of an energy-efficient building. Advanced insulation materials such as insulated sheathing can significantly reduce heat transfer, thereby lowering heating and cooling costs. 
Building Design
The design of the building itself can have a significant impact on its energy efficiency. Factors such as the orientation of the building, placement of windows, and the use of overhangs can optimize natural light and heat, reducing the need for artificial lighting and temperature control.
LED Lighting & Daylighting
LED lighting is far more energy-efficient compared to traditional lighting solutions. Additionally, maximizing the use of natural light through smart design can further reduce electricity consumption. Daylighting systems, such as light shelves and skylights, can be integrated into the design to distribute natural light effectively.
Insulated Metal Panels
Insulated Metal Panels (IMPs) are an innovative solution for commercial and industrial steel building construction, offering a multitude of benefits in terms of energy efficiency, durability, and aesthetic appeal. Comprising two metal layers with an insulating foam core, IMPs serve as an all-in-one wall and roof solution that is both structurally sound and thermally efficient.

At JB Steel™, we understand that energy efficiency is not just a trend but a long-term investment in your business and the planet. Our comprehensive suite of energy-efficient building methods—from Solar Power Integration and Insulated Concrete Panels to Advanced Insulation Techniques and smart Building Design—ensures that your commercial or industrial facility is not only cost-effective but also environmentally responsible.
Get A Free Estimate Today And Find Out How To Make Your Project More Energy Efficient