JB STEEL™ is an award winning business
We know you want only the best for your unique projects, and we specialize in making that happen. Here is a quick glimpse into this award winning company.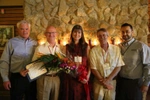 JB STEEL™ has been recognized for the efforts of their employees in the field of Safety. AGC has awarded JB STEEL™ with the PRIDE award 3 years in a row.
The Associated General Contractors of America works to ensure the continued success of the commercial construction industry by advocating for federal, state and local measures that support the industry. They look to provide opportunities for firms to learn about ways to become more accomplished, helping them to connect with the resources and individuals they need to be successful businesses and corporate citizens. Over 27,000 firms, including more than 7,000 of America's leading general contractors, nearly 9,000 specialty-contracting firms and almost 11,000 service providers and suppliers belong to the association through its nationwide network of chapters.
The purpose of AGC Safety PRIDE (Program Recognition Indicating Dedication & Excellence) designation is to recognize members who are willing to continuously improve and who are innovative industry leaders in safety. This program is recognized by OR-OSHA under Program Directive A-264 (Focused Inspections in Construction).

JB STEEL™ was nominated and awarded in 2022 as one of Southern Oregon's Best of the Best building/contracting companies.
Metallic Recognizes JB STEEL™
with 2015 Builder of the Year Award
Metallic Building Company (Metallic), is proud to announce Medford, Oregon–based JB STEEL™, as our 2015 Builder of the Year award winner. An Authorized Metallic Builder since 1997, JB STEEL™, has a solid reputation for innovation and creativity, providing metal building solutions for its customers in the U.S. West Coast region. This award was presented during the Metallic Building Company's annual National Sales Meeting on March 4, 2016, at the Omni Amelia Island Plantation Resort in Amelia Island, Florida.
"Andy Batzer and his team do very impressive and innovative work in the pre-engineered metal building construction industry, exemplifying what a Metallic Builder of the Year represents: ingenuity, creativity, collaboration and a spirit of community,"
- Tom Boal, Metallic President
"The key to success for me has been paved by the creativity and design abilities of the people around me, so this award really is the culmination of a team effort," said Andy Batzer, owner of JB STEEL™ Working alongside Batzer is a team comprised of a creative and hardworking family and staff. Brothers Russ and Bill Batzer, along with Andy's daughter Tara Fisher, are key to the overall management of the company. The in-house design team consists of two licensed architects, Gary Caperna and Bruce Anderson, both members of the AIA. Mike Thibeault, Larry Rux, and John Williams lead the shop and field staff with a combined experience of more than 100 years.
Together, they have been involved in numerous metal building projects that, in Batzer's words; "really push the limits of what a metal building can do." Case in point is the Ochoco Hangar at Hillsboro Airport in Hillsboro, Oregon. The project required Batzer and his team to come up with creative solutions to complicated design-build challenges that ultimately resulted in the successful completion of the building.
In addition to delivering a number of successful, high-complexity metal building projects for his clients, Batzer and his team are integral members of their Southern Oregon community. Batzer is personally involved with the Rotary Club of Medford, through which he has participated in the installations of nearly 20 playgrounds at local area schools and parks; Kid Time!, a nonprofit children's museum; and Kid's Unlimited, a provider of youth and community development services to the underprivileged.
The Builder of the Year Award is presented annually to an Authorized Metallic Builder to recognize their consistent contributions to the pre-engineered metal building construction industry and their local community, and the builder's innovative use of metal building materials. JB STEEL™ has previously earned Metallic excellence and merit awards and a spot in the Metallic M-Team (top 25 builders in the nation) on numerous occasions.