Career Opportunities
At JB STEEL™ our employees are an integral part of our success. The work we do matters. It matters to our clients. It matters to our community. And, it matters to our employees and their families. Don't just go to work. Be a part of our team and do work that matters. We offer competitive packages that include health benefits (medical, dental, vision), a 401K with company match, and more.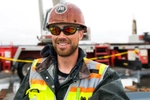 Paid Health Insurance
We pick up the premium for our employees for medical and dental. Employees can also opt in to a vision plan.
401K Match
When you opt in to our 401K retirement account, you will be fully vested in the match after 6 months from your date of hire.
Other Tax Savings Choices
We offer additional plans that can help you save, like a Flexible Spending Account (FSA) or Dependent Care Account.
Employee Referral Bonus
Refer a Rock Star employee to the company and get paid to do it.
Travel Incentives
We make traveling to out of town jobs a little easier with pay differentials and generous per diem.
A fun place to work
We build things. And we have fun doing it. Come be a part of it.
Licensed, Insured & Bonded
No job is too complex or too challenging for JB STEEL™. Our experience and knowledge allows us to tackle projects of any size, in the markets we serve.