Self-Performance
JB STEEL™ is best suited for most jobs due to our vast range of self-performance capabilities. Our crews specialize in civil siteworks, excavation, structural concrete, structural steel fabrication and installation & supply and install of custom pre-engineered metal buildings. Our ability to execute on the entire site-foundation-structure package provides seamless transitions on our jobs. Our depth of field knowledge within these areas allow for quick problem-solving providing distinct advantages for project budgets and schedules.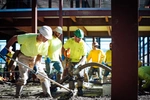 Licensed, Insured & Bonded
No job is too complex or too challenging for JB STEEL™. Our experience and knowledge allows us to tackle projects of any size, in the markets we serve.