Concrete Tilt-Up Construction
Our concrete tilt-up design-build teams are the best in the business. Find out what concrete tilt-up construction can do for your commercial or industrial project.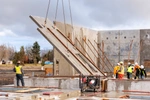 What Is Concrete Tilt-Up Construction?
Concrete tilt-up construction is a method of building with precast concrete wall panels that are erected directly onto the slab or foundation. This efficient technique is mainly used in commercial and industrial applications, as it requires fewer steps, therefore becoming more labor efficient than other construction methods. JB STEEL™ offers experienced professionals for planning, engineering, and erecting tilt-up buildings designed to meet all industry standards. Our team works quickly and safely to deliver concrete tilt-up buildings without compromising on strength and durability.
Design-Build Concrete Tilt-Up Construction
Design-build concrete tilt-up construction has become more popular for industrial projects. Our in house design team and self-performing crews have a lot of experience with concrete tilt-ups making the process seamless and more efficient. At JB STEEL™, our design-build approach is simple: we integrate both design and construction services under one contract, working together as a team to deliver high-quality, cost-effective tilt-up structures dramatically faster than the traditional design-bid-build method.
Our team includes architects, designers, drafters, craftsmen, and detailers to ensure your project is done on schedule and on budget
Advantages Of Concrete Tilt-Up Construction
1. Durable
Tilt-up concrete panels are typically thicker than those used in other methods, such as masonry construction. This increased thickness provides greater resistance to wind and seismic forces, making concrete tilt-up buildings ideal for locations that are prone to hurricanes or earthquakes.
2. Versatile
This method can be used for a variety of different building types, including office buildings, warehouses, and retail stores. Additionally, tilt-up concrete panels can be designed to meet a variety of aesthetic requirements.
3. Energy Efficient
Tilt-up panels provide continuous insulation better than other wall framing methods minimizing thermal bridging. This can help to keep heat in during the winter, and out during the summer, which can lead to lower energy bills for both commercial and industrial buildings.
4. Quicker Erection Timeline
A large advantage to concrete tilt-up construction is a much quicker erection time than other traditional methods. Many times, structural components can be erected in days instead of weeks, helping to speed up project timelines substantially.
See why JB STEEL™ is the best option for your tilt-up project
Common Building Types That Can Use Concrete Tilt-Up Construction
Licensed, Insured & Bonded
No job is too complex or too challenging for JB STEEL™. Our experience and knowledge allows us to tackle projects of any size, in the markets we serve.