JB STEEL DESIGN-ASSIST™ Contractor
Our unique JB STEEL DESIGN-ASSIST™ service offering delivers clarity between design professionals and building manufacturers. JB STEEL™ can act as a supplementary team member to an existing design team to work through the detailing of PEMB's and structural steel components. We understand that there are a lot of complexities with coordinating the main architectural design with the metal building shop drawings, so we are here to help! Given our experience with PEMB manufacturers, we understand the unique ordering and detailing process that can be difficult to know if you are new to metal buildings. We aim to improve the constructability, quality and clarity of any project involving a metal building.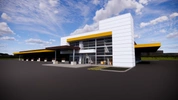 What is a JB STEEL DESIGN-ASSIST™ Contractor
A JB STEEL DESIGN-ASSIST™ contractor provides input, process, and expertise on the design of the project. This can help to avoid costly mistakes and delays later in the project. Additionally, a JB STEEL DESIGN-ASSIST™contractor can often provide a more cost-effective solution than a traditional contractor. They are able to do this by taking into account the entire scope of the project, not just the individual tasks that need to be completed.
When is a Good Time to Use a JB STEEL DESIGN-ASSIST™ Contractor?
JB STEEL DESIGN-ASSIST™ is a good option for commercial and industrial construction projects when the contractor wants to have more control over the design and/or needs assistance with the coordination of subcontractors. When JB STEEL™ is brought in as a JB STEEL DESIGN-ASSIST™ contractor, they are able to help the customer finalize their design, work with the subcontractors to ensure that everyone is on schedule, and handle any problems that may arise. This can save the customer time and money and results in a smoother construction project.

Why It's Important to Get a Contractor Involved Early
Involving the contractor in the design process can help to avoid potential problems and save time and money. Often, contractors are able to see potential issues with the design that may not be evident to those who are not familiar with construction. By catching these potential problems early on, it can help to avoid costly changes down the road.
COMMON BUILDING SIZES
JB STEEL™ Specializes in high quality 10,000+ Sq Ft buildings.
Below are some of the most common commercial and industrial building sizes. JB STEEL™ can build these or any custom building size.
See Why JB STEEL™ Is The Most Trusted Option In Commercial And Industrial Construction

JB STEEL DESIGN-ASSIST™ Services
Design assistance

Value engineering

Constructability

Cost estimating and final price determination

Schedule

Permitting

Procurement

Building Information Modeling ("BIM")

Site issues

Maintenance and life cycle
Customer Testimonials
"JB STEEL™ designed and built our new facility in Medford, Oregon seamlessly and met our timeline. They were great to work with every step of the way; from guiding us through frustrating permitting issues to implementing our requested mid-project design changes and finally keeping up with consistent communication to ensure we were updated on the progress of the job. All of their team members were the upmost professionals to work with and always provided needed information to us that ensured an on-time project completion. We appreciate their hard work and definitely look forward to working with them again!"
"JB STEEL™ recently designed and constructed a beautiful new building for our property and were an absolute pleasure to work with. They understood our unique vision and executed it perfectly, met our standards of quality, and did it on all a very tight timeline."
"We make a lot of changes and we need them to be on our team, not opposing each other but walk through it together to figure out a solution. We put them through the wringer and they delivered. We re-engineered two or three times; it was a long ways from home, and they made it happen on several levels."
Licensed, Insured & Bonded
No job is too complex or too challenging for JB STEEL™. Our experience and knowledge allows us to tackle projects of any size, in the markets we serve.