Structural Steel Fabrication
& Installation
Our highly specialized steel fabrication shop is capable of fabricating & shipping structural steel to meet your schedule.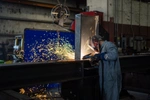 JB STEEL™ SPECIALIZES IN STRUCTURAL STEEL FABRICATION & INSTALLATION
When steel is the answer for your project, make sure you have a steel fabricator as strong and dependable as the material you have come to trust. Our steel shop has been a member of the Southern Oregon community for over 60 years. Founded by Jack Batzer, our shop is also the oldest family-run facility in the area.  Our long-standing history of completing tough jobs can provide the reliability and consistency you need. Our iron workers supply and/or install our own fabricated steel as well as steel provided by others. No job is too big for us.

We Deliver Structural Steel To Your Job Site On Schedule And On Budget
JB STEEL™ is a leading supplier of quality structural steel for commercial and industrial projects. We pride ourselves on our ability to deliver regular shipments of steel on time and on budget. Our team of experienced professionals have extensive knowledge of the steel industry, and we're committed to providing our customers with the best possible service. When you choose JB STEEL™, you can be confident that you're getting the best quality structural steel from the most reliable company.
Get A Free Project Estimate

4 Things To Consider When Hiring A Structural Steel Fabrication Company
1. Experience
When choosing a structural steel fabrication company, it is important to consider their level of experience. You will want to choose a company that has been in business for over half a century like JB STEEL™ and has a proven track record of success. Additionally, you will want to make sure that the company has experience fabricating the type of structure you need.
JB STEEL™ is a member of the American welding society. All welders are certified to AWS d1.1 standards.
Our erectors erect buildings in accordance with OSCA 1926.751-.761 subpart r.
2. Capacity
Another important factor to consider is the company's capacity. You will want to make sure that the company has the ability to handle your project, based on its size and scope. Additionally, you will want to inquire about the company's lead time, as you will need to make sure that they can complete the project in a timely manner. JB STEEL™ has the ability to fabricate steel for most commercial and industrial metal building projects.
3. Quality
It is also important to consider the quality of the company's work. You will want to make sure that the company uses high-quality materials and that their workmanship is up to par. We have built a reputation for decades of high quality work and problem solving.
4. Cost
Of course, cost is also an important factor to consider when choosing a structural steel fabrication company. Cost-effectiveness is the goal. You want the most value for your money. It is important to remember that you get what you pay for, so be sure to balance cost with quality when making your decision. With our in house detailing, locally sourced paint shop, install team, and cutting edge software we are the most cost effective option for your job.
Why Is Experience Important When Installing Structural Steel?
Installing structural steel is no small task. It requires a high level of precision and an understanding of the entire process, from start to finish. That's why experience is so important when it comes to choosing a contractor for the job. An experienced contractor like JB STEEL™ will have a team of skilled workers who know how to properly handle and install the steel. We have the necessary equipment and tools to get the job done quickly and efficiently. In addition, we will be familiar with the building code requirements for structural steel installation, ensuring that the job is done safely and up to code. With so much at stake, it's clear that experience matters when it comes to choosing a structural steel installer.

Structural Steel Fabrication Process
Structural steel beams are an essential element in commercial and industrial construction projects.
What Happens Before We Get The Steel
Scrap steel is melted in a furnace.

The molten steel is then poured into molds, which give the beam its shape.

The steel is cooled and hardened.
Our Fabrication Process
We inspect the manufactured steel for quality.

We Give each piece of steel a number

We weld parts to it - clips, base plates, knife plates, edge form, erection aids, etc.

We finish the steel and cut to size

We then load the steel onto trucks and it is shipped to you.
Licensed, Insured & Bonded
No job is too complex or too challenging for JB STEEL™. Our experience and knowledge allows us to tackle projects of any size, in the markets we serve.