Industrial Buildings
With over 50 years of experience designing and building industrial buildings, JB STEEL™ is the #1 option for your industrial building needs.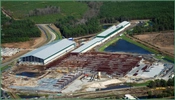 Specializing in Industrial Design and Build
We are a full-service industrial building design and construction company. We provide comprehensive services for industrial clients, from initial feasibility studies and site selection through construction administration. Our industrial experience encompasses a wide range of project types, including manufacturing facilities, distribution centers, warehouses, office/warehouse buildings, and service centers. We have the experience and expertise to successfully navigate the unique challenges associated with industrial projects, ensuring that our clients' needs are met every step of the way. Our industrial team is dedicated to providing the highest level of service possible, and we look forward to working with you on your next project.

Common Industrial Building types
JB STEEL™ Specializes in high-quality industrial 10,000+ Sq Ft buildings.
Manufacturing

Storage Buildings

Equipment and Machinery Storage

Warehouses

Outbuildings

Bulk distribution warehouses

Data centers

Clean Room Facilities
See Why JB STEEL™ Is The Most Trusted Option In Commercial And Industrial Construction

LOCAL INDUSTRIAL DESIGN-BUILD CONTRACTOR
We are a local industrial Design-Build contractor. Our design-build team will work with you from beginning to end making sure your project is completed correctly and on time. Our design-build process helps eliminate design and communication problems between design and construction teams. This saves you time, money, and headaches.
JB STEEL™ is a Self-Performing General Contractor
Traditionally, most general contractors will hire subcontractors to perform a majority of the work instead of performing it themselves. When you work with JB STEEL™, we have our own employed crews who perform the major scopes of work which include the following:
Civil construction: excavation, dirt hauling, rock import, grading, utilities, sewer, storm piping, fire suppression piping, etc.

Structural Concrete & Tilt-ups

Structural Steel

Pre-Engineered Metal Buildings
What are the benefits of a self-performing general contractor?
We control the critical path
Our crews perform these large scopes of work that define the critical path of a project schedule. Conversely, other general contractors who rely on the availability of various subcontractors to schedule their projects, it puts JB STEEL™ ahead of the game when it comes to finishing jobs on time.
We control cost
JB STEEL™ is a vertically integrated company. The majority of the work on our jobs, ranging from design professionals to ironworkers, is performed by highly qualified JB STEEL™ employees. This advantage allows us to control cost variables that other general contractors cannot. Furthermore, we value our deep rooted and trusted relationships with material suppliers, engineers, and finish trades in the areas we work which enhances our ability to meet our customer's budgets.
We control quality
We focus on building crews that are experienced, knowledgeable, and safety conscious. This defines our ability to perform work at the highest level of quality our customers demand. Our 65+ years of experience speaks for itself.

COMMON BUILDING SIZES
JB STEEL™ Specializes in high quality 10,000+ Sq Ft buildings.
Below are some of the most common commercial and industrial building sizes. JB STEEL™ can build these or any custom building size.
80 x 120 (9,600 Sq Ft)

100 x 100 (10,000 Sq Ft)

80 x 150 (12,000 Sq Ft)

100 x 150 (15,000 Sq Ft)

100 x 200 (20,000 Sq Ft)

150 x 150 (22,500 Sq Ft)

150 x 200 (30,000 Sq Ft)

200 x 200 (40,000 Sq Ft)

200 x 250 (50,000 Sq Ft)

200 x 300 (65,000 Sq Ft)

250 x 300 (75,000 Sq Ft)

All Other Sizes
Licensed, Insured & Bonded
No job is too complex or too challenging for JB STEEL™. Our experience and knowledge allows us to tackle projects of any size, in the markets we serve.