JB STEEL Champions Safety Every Day
The safety culture at JB STEEL™ starts at the top. An incident and injury free culture is a value that everyone at JB STEEL™ upholds as a primary focus in every action through project completion.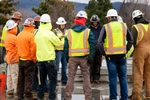 Fostering Safety in our Work Culture
JB STEEL™ employees are empowered from the CEO to the laborers in the field to "do the right thing". The team that has been selected for your project has been involved with the development and advancement of our current safety culture. Our employees from every position, from the office to the field, have had firsthand experiences of how to implement our safety program on every project they have completed with our company. JB STEEL™ considers our clients as a part of our team, we extend our focus on an incident and injury free environment to help mitigate potential risks that would impact our clients.
Even as a heavy self-performing contractor that performs high-risk work, JB STEEL™ far exceeds the EMR safety benchmark
Industry Standard EMR
1.00
Federal Standard EMR
1.25
Industry Standard EMR
1.00
Federal Standard EMR
1.25

JB STEEL™ has been recognized for the efforts of their employees in the field of Safety. AGC has awarded JB STEEL™ with the PRIDE award 3 years in a row.
2019 Award Winner
2020 Award Winner
2021 Award Winner
The Associated General Contractors of America works to ensure the continued success of the commercial construction industry by advocating for federal, state and local measures that support the industry. They look to provide opportunities for firms to learn about ways to become more accomplished, helping them to connect with the resources and individuals they need to be successful businesses and corporate citizens. Over 27,000 firms, including more than 7,000 of America's leading general contractors, nearly 9,000 specialty-contracting firms and almost 11,000 service providers and suppliers belong to the association through its nationwide network of chapters.
The purpose of AGC Safety PRIDE (Program Recognition Indicating Dedication & Excellence) designation is to recognize members who are willing to continuously improve and who are innovative industry leaders in safety. This program is recognized by OR-OSHA under Program Directive A-264 (Focused Inspections in Construction).

JB STEEL™ is committed to providing our employees with a safe and healthy work environment. All employees play an essential role in the success of our company and we consider them to be part of the JB STEEL™ family. Safety is a core value that shapes our behavior. It is an essential consideration in all business decisions and is a requirement in the performance of all job tasks. We strive to continually improve on creating a safe work environment that fosters teamwork, dependability, responsibility, accountability and creativity. We maintain open communication channels that allow us to remain flexible to meet our customers' needs and get the job done. JB STEEL™ recognizes the important contribution of its employees to its safety practices, business success and growth through fair compensation, benefits and a program of performance-related incentives and rewards. We expect each one of our dedicated professionals to execute their duties in such a manner that will always meet, and preferably exceed, our clients' expectations and needs.

The 6 Major Elements of the Safety & Health Program at JB STEEL™
1. Safety Management Commitment and employee involvement are complementary. Safety Management commitment, supplied by our safety manager, provides the motivating force and the resources for organizing and controlling activities within an organization. At JB STEEL™, management regards workers safety and health as a fundamental value of the organization and applies its commitment to safety and health protection with as much vigor as to other organizational purposes.
2. Employee Involvement provides the means through which workers develop and/or express their own commitment to safety and health protection, for themselves and for their fellow workers.
3. Worksite Analysis involves a variety of worksite examinations, to identify not only existing hazards but also conditions and operations in which changes might occur to create hazards. Unawareness of a hazard which stems from failure to examine the worksite is a sure sign that safety and health policies and/or practices are ineffective. Effective management actively analyzes the work and worksite, to anticipate and prevent harmful occurrences. Worksite Analysis is executed on every project and is incorporated into the Jobsite Specific Safety Plan created wholesomely by the project team and upheld through all subcontracting.
4. Hazard Prevention and Controls are triggered by a determination that a hazard or potential hazard exists. Where feasible, hazards are prevented by effective design of the jobsite or job. Where it is not feasible to eliminate them, they are controlled to prevent unsafe and unhealthful exposure. Elimination or controls is accomplished in a timely manner, once a hazard or potential hazard is recognized.
5. Safety and Health Training addresses the safety and health responsibilities of all personnel concerned with the site, whether salaried or hourly. It is often most effective when incorporated into other training about performance requirements and job practices. Its complexity depends on the size and complexity of the worksite, and the nature of the hazards and potential hazards at the site.
6. Jobsite Safety Meetings are required on all JB STEEL™ projects weekly. Upcoming work is evaluated to ensure proposed means and methods will meet or exceed all safety requirements. Plans are discussed and agreed upon between all crew members and management. Documentation is part of this weekly routine. Safety Manager will attend these meetings at least twice a month on all project.
Licensed, Insured & Bonded
No job is too complex or too challenging for JB STEEL™. Our experience and knowledge allows us to tackle projects of any size, in the markets we serve.