Our Story
JB STEEL™ is a family business owned & operated out of Medford, Oregon. Our Steel Fabrication Shop has been a part of the Southern Oregon community since 1955 and we have specialized in Metal Buildings since 1970.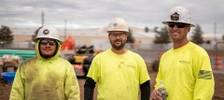 Humble but hardworking beginnings
It was the construction of a new middle school that inspired founder and father Jack Batzer to begin his legacy of Batzer family-run construction companies. He was a superintendent on that project, and the construction of that school gave Jack the confidence to start his own company in 1955. Fifteen years later, facing escalated charges from a steel supplier while building a mill, Jack decided "we can do that too" and started his own steel manufacturing facility, JB STEEL™ in 1970. Since then JB STEEL™ has grown into a successful commercial and industrial contractor offering specialized knowledge and experience in structural steel, structural concrete, and pre-engineered metal buildings.
JB STEEL™ is one of the longest-run, family-owned, construction companies in Southern Oregon. JB STEEL™ has created the culture and resources to serve its client base over the past 50 years. Following in their father's footsteps, Andy, Bill, and Russ have continued the tradition of providing quality construction services. They have gone above and beyond by diversifying into secondary and complimentary business markets that provide stability for its employees and clients. In the words of Jack Batzer "You've got to do good work and you've got to be conscientious", understanding the value of maintaining a good reputation.

Excellence is a Habit
We are proud to have been partnered with Metallic Building Company & NCI Group since 1997. While we have been honored numerous times by Metallic in the past, we were thrilled to be awarded Metallic's 2015 Builder of the Year. Making us the only Oregon-based company to receive this prestigious award. We believe quality cannot be compromised. Our success is directly dependent on years of dedication to excellence.

The JB STEEL Way™
JB STEEL™'s diversity of business solutions provides its customers with the experience and the resources to complete each project successfully. JB STEEL™ has taken the core values started by Jack Batzer and cultivated them into what we deliver today. Seamless transitions in self-performed structural concrete, site concrete, steel fabrication and installation provide distinct advantages for project budgets and schedules. Our diverse clientele include mills, airports, schools, banks, credit unions, co-ops, government, education, healthcare, tech-industry, retail, agricultural buildings, and many more!
For nearly five decades, we've been providing design-build & contracting services for new construction projects, renovations and even service repairs for commercial and industrial buildings. Our projects range in size from $100,000 – $100 million. Since 2000, we have earned 25+ awards from various public and private entities as well as Metallic Building Magazine for Excellence and Service. We continually connect with the communities where we work by keeping things local and utilizing specific specialized subcontractors wherever the job may take us. JB STEEL™'s approach to design and construction is always based on finding ways to streamline processes, reduce waste, and minimize the environmental impact of our operations while lowering construction costs. We rely on practical construction solutions and continually look for cost-effective, environmentally friendly options for all of the construction services we provide.
The history of JB STEEL
2022
J.B. Steel, LLC names Russ Batzer – CEO, Andy Batzer – President of Steel Operations, and Jacoby Stead – President of Construction Operations
2022
J.B. Steel, Inc. changes name to J.B. Steel, LLC in preparation of Succession Plan
2016
Batzer Construction, Inc. shifts General Contracting to J.B. Steel, Inc.
2015
J.B. Steel, Inc. was awarded Metallic's 2015 Builder of the Year
1997
J.B. Steel, Inc. partners with Metallic Building Systems
1997
Batzer Construction, Inc. – Russ Batzer is President
1990
J.B. Steel, Inc. – Andy Batzer is President
1984
Batzer Construction, Inc. – John Batzer is President
1972
Batzer Construction, Inc. becomes Incorporated
1972
J.B. Steel, Inc. – John Batzer is President
1970
J.B. Steel, Inc. starts Fabricating Steel and becomes Incorporated
1955
Batzer Construction founded by Jack Batzer and President