Public Works And Government Projects
We take pride in our proven track record of delivering high-quality buildings to the public sector which include schools and educational facilities, governmental buildings, athletic & recreational facilities, waste water treatment plants, airports, transfer stations, etc. We love serving the public sector because we strongly value the communities we live and work in.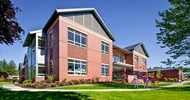 Experienced Public Works Contractor
We are experts in creating functional and efficient public spaces that meet the unique needs of each community. Our experience with working for the public sector has also included a design-build method. Our in-house design team can take your project from start to finish. As a public works contractor, this gives us a unique advantage, since we know and understand how to plan appropriately for specific building types. We are dedicated to providing our clients with the highest quality public works buildings possible, and we are committed to making a positive impact on the communities we serve. Contact us today to learn more about our public works design and construction services.

Common Public Works Buildings
Police stations

Public works buildings

Federal center buildings

Firehouses

County headquarters

Town and city halls

Schools

Public libraries

Sand and salt storage sheds

Military structures

Government offices

Energy
JB STEEL™ is a Self-Performing General Contractor
Traditionally, most general contractors will hire subcontractors to perform a majority of the work instead of performing it themselves. When you work with JB STEEL™, we have our own employed crews who perform the major scopes of work which include the following:
Civil construction: excavation, dirt hauling, rock import, grading, utilities, sewer, storm piping, fire suppression piping, etc.

Structural Concrete & Tilt-ups

Structural Steel

Pre-Engineered Metal Buildings
What are the benefits of a self-performing general contractor?
We control the critical path
Our crews perform these large scopes of work that define the critical path of a project schedule. Conversely, other general contractors who rely on the availability of various subcontractors to schedule their projects, it puts JB STEEL™ ahead of the game when it comes to finishing jobs on time.
We control cost
JB STEEL™ is a vertically integrated company. The majority of the work on our jobs, ranging from design professionals to ironworkers, is performed by highly qualified JB STEEL™ employees. This advantage allows us to control cost variables that other general contractors cannot. Furthermore, we value our deep rooted and trusted relationships with material suppliers, engineers, and finish trades in the areas we work which enhances our ability to meet our customer's budgets.
We control quality
We focus on building crews that are experienced, knowledgeable, and safety conscious. This defines our ability to perform work at the highest level of quality our customers demand. Our 65+ years of experience speaks for itself.
Licensed, Insured & Bonded
No job is too complex or too challenging for JB STEEL™. Our experience and knowledge allows us to tackle projects of any size, in the markets we serve.