Contact Us
Thank you for your interest in JB STEEL™, we look forward to hearing from you! If you would like to check out our current career opportunities please see the company drop down above. For general business inquiries please fill out the form below and we will be in contact shortly!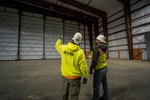 Join the JB STEEL™ Family
At JB STEEL™, our employees are an integral part of our success. The work we do matters. It matters to our clients. It matters to our community. And, it matters to our employees and their families. Don't just go to work. Be a part of our team and do work that matters. We offer competitive packages that include health benefits (medical, dental, vision), a 401K with company match, and more.
Career Opportunities
JB STEEL™ Project Request Form
Please fill out the below questionaire with as much information as you can. This will allow us to match you with the most suitable person to speak further with regarding your project! We appreciate you reaching out to us and we look forward to helping you!
Licensed, Insured & Bonded
No job is too complex or too challenging for JB STEEL™. Our experience and knowledge allows us to tackle projects of any size, in the markets we serve.