Design-Build Contractor
JB STEEL™ will work with you from the planning and design phase of your project until it is completed. JB STEEL™ is a Commercial and Industrial design-build company that has the best internal employees and subcontractors in the area.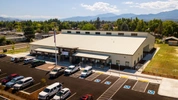 Why Hire us for Commercial and Industrial Design-Build Contracting?
Over 50 years of industry knowledge

Industry relationships with companies you can trust

In-house steel fabrication

The best employees in the business

We are a tier 1 client of our metal building suppliers
Get A Free Project Estimate Or Preliminary Site Review

Is Design-Build Less Expensive?
With No 3rd parties and a smoother process, design-build can save time and money on large construction projects.
Better Coordination
With design-build contracting, the same company is responsible for both the design and construction of a project. This allows for better coordination than compared to a traditional design bid build project delivery method.
Faster, More Accurate, Design Process
With design-build you have a pre-construction team that includes a project manager and super intendant who are performing constructability reviews much earlier in the process overall creating a more efficient project.
Faster Build Time
Design-build contractors can often complete projects faster than traditional project delivery methods which will save on all overhead expenses associated with the project.
The Pre-Construction Process And Benefits
The pre-construction process is an important part of any project, large or small. It traditionally includes activities such as creating the plans and specifications for the project, verifying that it meets local laws and regulations, performing a cost-analysis, and providing insight into potential risks involved with getting the project completed. Pre-construction is where teams formulate a clear plan on how they can efficiently complete the job while complying with all requirements to avoid costly problems or delays once construction begins. Many times prior to starting construction, teams will go through revisions in order to double-check that everything is on track before taking the next step forward. Without a thorough pre-construction phase, there would be no assurance that everything has been accounted for ahead of time and projects may suffer from inefficiency or incorrect budgeting due to unexpected issues down the line.

COMMON BUILDING SIZES
JB STEEL™ Specializes in commercial and industrial high quality 10,000+ Sq Ft buildings.
Below are some of the most common commercial and industrial building sizes. JB STEEL™ can build these or any custom building size.