Warehousing / Distribution Design
& Construction
Here at JB STEEL™, we specialize in custom building envelope solutions based on your warehousing & distribution needs. Cost effectively AND on time.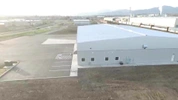 Small Details Make A Big Difference
There are a lot of factors to consider when designing and building a warehouse or distribution center. There things include the Structure design, flooring system, exterior wall type, bay sizing, product type, equipment being used, and more.
JB STEEL™ will help you to make sure all the necessary details are considered so you get the facility you need from the very beginning.

Functional Design
Functional design is an important factor to consider when planning a Storage or distribution center. An efficient workflow will help to ensure people and products move quickly and efficiently. A well-designed Warehouse or distribution center will also be able to accommodate future growth and changes in product mix. By taking these, and other factors into account, JB STEEL™ can create a facility that is both productive and cost-effective.

Pre-Engineered Metal Warehouse And Distribution Buildings
Delivered And Installed Pre-Engineered Materials
JB STEEL™ is a full-service commercial and industrial metal building contractor. We can design and pre-engineer your facility according to your specifications, deliver it to your site, and erect the facility for a seamless process saving you time, money, and headaches.
Experienced Construction Team
We have been able to build one of the most experienced teams in the industry. From concept, to design and build, our experience allows us to take on more custom projects and provide custom solutions. Other companies are not as vertically integrated as they are. Custom solutions lead to time and money savings. 

Custom Warehouse And Storage Design-Build
We offer custom-designed warehouses and storage facilities to meet the specific needs of our clients. Whether you're looking for a storage facility for excess inventory or a large facility for long-term storage, our team of experts can create a solution that meets your unique requirements. We'll work with you to identify your specific needs and then design a warehouse that maximizes space and efficiency. With our custom-design services, you can be confident that your warehouse will be perfectly suited to your business. Contact us today to learn more about how we can help you get the most out of your storage space.
Common types Of Warehouse And Storage Buildings
Cloud Computing Storage

Clean Room Facilities

Climate Controlled Facilities

Data Farms

Ecommerce Storage and Distribution

Bakery and Food Storage

Logistics Facility

Bay Size And Height Design
In a warehouse or distribution center, bay size and height play a crucial role in determining the efficiency of inventory management and the overall flow of operations. There are a number of factors to consider when planning out bay size and height, such as the type and size of inventory, the frequency of shipments, the number of employees, and more. We also take into account all uses of the building including HVAC, overhead design of sprinklers, lighting, fans, heating, and mezzanines. By taking all of these factors into account, businesses can ensure that their warehouses or distribution centers are able to operate at peak efficiency. In addition, well-planned bay sizes and heights can help to prevent accidents and injuries by providing clear paths for employees and equipment. Ultimately, bay size and height are important considerations in man warehouse or distribution center designs.
Mid Span and Clear Span Construction
Licensed, Insured & Bonded
No job is too complex or too challenging for JB STEEL™. Our experience and knowledge allows us to tackle projects of any size, in the markets we serve.